More than 90,000+ copies sold – Now with new material printed in 8 languages!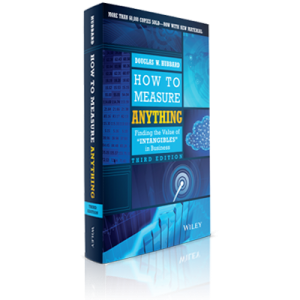 The premise of How to Measure Anything: Finding the Value of Intangible in Business is that anything can be measured. This bold assertion is the key to solving many problems in business and life in general. The myth that certain things can't be measured is a significant drain on our nation's economy, public welfare, the environment, and even national security. In fact, the chances are good that some part of your life or your professional responsibilities is greatly harmed by a lack of measurement – by you, your firm, or even your government. Regardless of your role in business, understanding the power of measurement will make you, those around you, and your organization more efficient and productive.
Using simple concepts to illustrate the hands-on application of advanced statistical techniques, How to Measure Anything, 3e reveals the power of measurement in our understanding of business and the world at large. This insightful and engaging book shows you how to measure those things in your business that you may have previously considered immeasurable, including: customer satisfaction, organizational flexibility, technology ROI, and technology risk. Offering examples that will get you to attempt measurements—even when it seems impossible—this book provides you with the underlying knowledge and the necessary steps for measuring anything, especially uncertainty and risk. This revised third edition provides even deeper insights into the fascinating practice of measuring intangibles, with a special emphasis on risk management and customer satisfaction. New and updated chapters also include:
A philosophical discussion of different approaches to probabilities, including what is known as the "Bayesian" vs. "frequentist" interpretations of probability
Information compiled from other popular works and compelling articles from Douglas W. Hubbard
Enlightening new examples of where seemingly impossible measurements were resolved with surprisingly simple methods
More measurement myths and other perceived obstacles to measurement debunked
A complete and updated resource with real-world case studies and an easy-to-follow format, How to Measure Anything, 3e illustrates how author Douglas Hubbard – creator of Applied Information Economics – has successfully applied his approach across various industries. You'll learn how any problem, no matter how difficult, ill-defined, or uncertain, can lend itself to measurement using proven methods. Straightforward and accessible, this is the resource you'll turn to again and again to measure the seemingly immeasurable.